BLOODSYNDICATE.COM is a fan made website dedicated to the legendary comic book series about super powered gang members known as the Blood Syndicate. This website will feature EVERYTHING Blood Syndicate related such as Character bios, Concept art, Creator interviews, and more. This includes a monthly blog which follows activities of the gang since Wise Son regained his status as leader and a weekly blog focused on the untold origins and history of Blood Syndicate.
BLOGS : AMERRIKKKA STILL EATS THE YOUNG ** WILL JIM LEE BRING THE SYNDICATE BACK *** PROOF THAT JUSTICE LEAGUE COPIED A BLOOD SYNDICATE STORY ARC ****
WHY DID BRICKHOUSE GET A FACE LIFT?!?
Let's discuss the face lift of the blood syndicate member BRICKHOUSE. Now originally or rather for the 1st year of the Syndicate series, Brick looked like a runaway slave or one of them old drawings of African Americans in comics and/or on cartoons.
FIRST THEY HAD TO GET THEIR WIELDING EQUIPMENT READY ALONG WITH THE STEEL PLATE FACE MASK TO SMOOTH DOWN THE "ROCKY" PARTS OF BRICKS' DAMAGED FACE.
YOU HAVE TO WONDER IF THIRDRAIL WOULDA STAYED WITH BRICK IF SHE STILL LOOKED LIKE THIS:
THE END RESULTS: AFTER ALL THAT DAMN WORK AND WAHLAH. THE NEW & IMPROVED BRICKHOUSE
HERE ARE PICS OF BRICKHOUSE BY THE SAME ARTIST BEFORE AND AFTER THE "FACELIFT" :
BIG DIFFERENCE?
CLICK HERE TO SEE THE FULL BLOG
Bloody(swag)Pic Of The Week:
Illustrated by the Fan Favorite Chris Cross ( Blood Syndicate # 13 )
The Blood Syndicate is a multicultural gang street gang of superpowered metahumans operating out of Paris Island, in Dakota City. Most of its members received their powers in the "Big Bang", when a tear-gas laced with Quantum Juice was used to dispel a massive gang riot, killing many and unlocking the metagene in an elite and surviving few. Its members are compiled from the remnants of several other street gangs, including the Paris Island Bloods and the Force Syndicate, hence their title being a compilation of both names. The team has been through several changes since first coming together. Originally, the leader was now deceased member Tech-9, followed by Wise Son, then Holocaust, and finally Wise Son regains his status as HNIC of The Syndicate.
The Blood Syndicate is created by Milestone Media and published by DC Comic
The UNTOLD HISTORY of Blood Syndicate DMZ
Click here to read about the Blood Syndicates' UNTOLD ORIGINS and see how DMZ was given his powers.
Previously on Blood Syndicte # 36 :
AFTER THE EVENTS OF MILESTONE FOREVER AND THE BLOOD REIGN. THE RECENTLY REFORMED BLOOD SYNDICATE AND THEIR LEADER WISE SON DECIDES TO SPLIT THE TEAM INTO TWO FIELD TEAMS TO DEAL WITH THE LACK OF SUPER HEROES AND THE OVERSATURATION OF SUPER VILLAIN BANG BABIES IN DAKOTA. INTIALLY WISE CHOSES FADE TO BE HIS SECOND IN COMMAND AND LEADER OF HIS OWN FIELD TEAM. BUT FADE DOES THE UNTHINKABLE. HE QUITS AS LEADER AND OFFERS THE JOB TO ORO..THE FORMER COP?!?
BLOOD SYNDICATE # 37
Amerikkka still eats her young part 2
DON'T FOLLOW THE LEADER
Written by Steve Reeves
WISE: Fade what the hell do you think you're doing?!? You know this is some disrespectful sh*t right?
FADE: What are you talking about Wise?
WISE: I assigned you as team leader. Me!! Hell we even spoke about it before the meeting. This is like a spit in the face Fade. You're taking my plan and making it your own.

FADE: Wise…it's nothing like that at all. I know inside… that I'm not the right guy to lead a team and the best man to do it is Oro. With the Syndicate being the face of a new age of Heroics in Dakota, I think the fact that Oro is a former Police Officer and has worked in Dakota city for several years before the big bang, makes him more than qualified to be team leader of the away team.
WISE: Yeah but think about all the people who will think we've completely sold out. We still got to keep our street cred…I'm just saying.
DOGG: C'mon Wise…lets be serious here. Fade is right. Oro being the face of the away team will help more than hurt. We're talking about the city of Dakota and there's a different breed of people out there whom are more likely to accept a Syndicate team being led by an ex officer rather than an ex-gang member. And besides…You have another team in Paris Island, A team that will handle the bad babies a little more differently and without the eyes of the city watching your every move. Believe me Wise, with the team you've put together to protect Paris Island, You definitely will not lose any street cred because of that alone.
Just think about how it would look to the media and the masses who still don't think we've changed seeing a team of former gangers turn superheroes being led by a former officer of the law and military solider.
WISE: Hmm…dammit! I hate to say it; but you may have a point Dogg.
FLASHBACK: Oh sh*t. Look what Fade done started now.


Though it was quite obvious some of the other members of the team had a problem with his decision and they will accept him as a leader because Oro has proven to be a good teammate. Oro, knowing that the others still have an issue with him due to his past as a former Police Officer, does the unexpected and accepts Fades' decision and become the leader of the Syndicate away team.
While some members of the team were okay with the decision and others really didn't care, there were a few members who strongly disagreed with it especially Flashback and Third Rail. The two founding members didn't feel that "Oral" is fit to lead a team of former gang bangers whom he once tried to defeat with the Shadow Cabinet and whom he only decided to run to for help after being from frame for murder. Though Oro has proven to be a loyal teammate, he hasn't done enough in the eyes of these two to become a Leader of anything associated with the Syndicate.

Third: Ain't no way I'm taking orders from this pig.
ORO: Hey?! I thought we were cool Third. Now I'm a "pig"? What gives..?

FLASHBACK: I think he was being nice calling you a "pig" Oral. Trust and believe, I would have said a lot worse. Especially since you're accepting a position that you haven't even earned as far as I'm concerned. I'd even prefer Boogieto be team leader than you.
BOOGIE: Uhh...thank you...I think.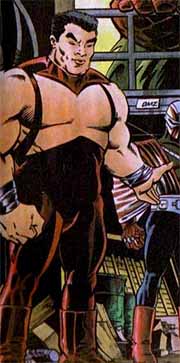 Third Rail feels as though he got over looked and believes as an original member of The Blood Syndicate, he should have been the one to lead the team rather than Oro. Third tells Fade he disagrees with this decision and then he challenges Oro to a one on one for the leadership of the Syndicates away team. Though Oro thinks this is stupid and it's really not big of a deal to him to become the Leader of a group of former gang bangers trying to be super heroes. He realize that with the team now fighting for justice, he can do what he intended to do as a cop and help take down the evil that has brought nothing
good to the city he calls home.


With his military and enforcement experiences, he begins to believe he may just be the man
for the job and agrees to fight Third Rail
for the rights to be second in command
….say whaaat?!?

TO BE
CONTINUED
NEXT: THIRD RAIL vs. ORO - WHO WILL BE THE FIRST TO BE SECOND?!?


COMING SOON IN BLOOD SYNDICATE # 38
THIRD RAIL VS. ORO
COMING SOON ON BLOODSYNDICATE.COM :
BLOOD SYNDICATE



VERSUS


THE AVENGERS
CLICK HERE TO SEE THE LATEST INSTALLMENT ON BLOODSYNDICATE.COM