BLOODSYNDICATE.COM
presents the FIGHTS of The Blood Syndicate. The Blood Syndicate has had some really big fights during their short 3 year comic book series lifespan. In this section of the site, we will look at some of The Syndicate biggest and craziest fights throughout their existence.
THE BLOOD SYNDICATE VS THE AVENGERS(MOVIE ROSTER)
TEEN TITANS(TV ROSTER) VS BLOOD SYNDICATE?!
​
WHO WOULD WIN IN A FIGHT: THE TEEN TITANS OR THE BLOOD SYNDICATE?
​
BLOOD SYNDICATE VS. SUPER-MAN

This is probably the Syndicates' most known battle. The upstart gang got the chance to go head to head with the most popular super hero icon of all time.

Initially a misunderstanding, Super Man and the Blood Syndicate went at it. The Syndicate wasn't much of a match for Super Man...
The two eventually resolved whatever problem they had and decided to work together to stop the real threat...their very existence.
TECH-9 VS. HOLOCAUST
CLICK ON THE IMAGE ABOVE TO SEE SCENES OF THE FIGHT BETWEEN HOLOCAUST AND TECH-9
BLOOD SYNDICATE VS. ICON


Wise Son felt disrespected when ICON came on Blood Syndicate territory. The team looked at Icon as a super cop who was working for the Mayor and believed he was coming there to start trouble. Wise Son attacked Icon with a fist...which didn't do much to him. He knocked Wise down with ease and then got his @ss handed to him by The Syndicate. The two eventually came to a truce and would continue to work together on several occasions.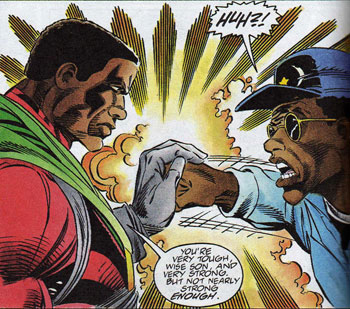 CLICK ON THE IMAGE ABOVE TO SEE SCENES FROM THE FIGHT BETWEEN THE SYNDICATE & ICON
COMING SOON BLOOD SYNDICATE VS. X-MEN