#6
WHY DID BRICKHOUSE GET A FACE LIFT?!?
Let's discuss the face lift of the blood syndicate member BRICKHOUSE. Now originally or rather for the 1st year of the Syndicate series, Brick looked like a runaway slave or one of them old drawings of African Americans in comics and/or on cartoons.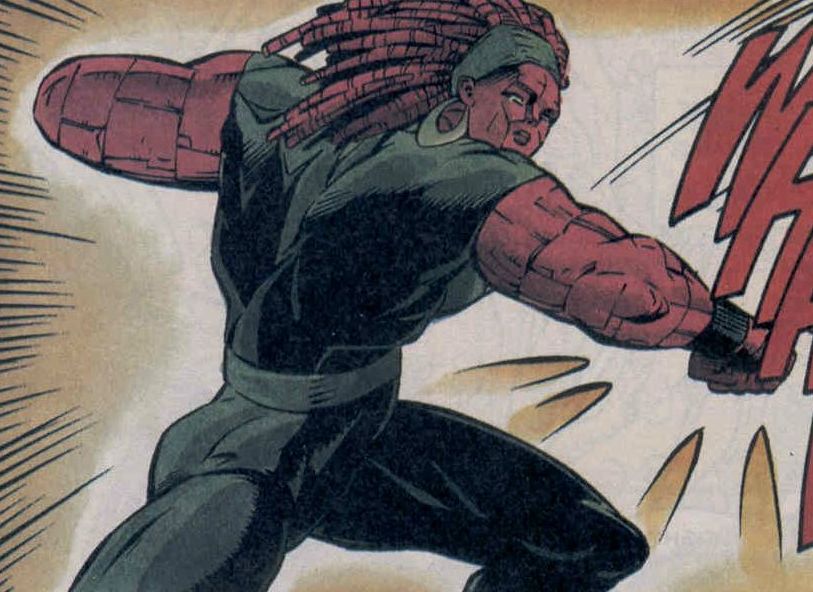 I was a fan of the original BRICK, I thought she looked just a tad bit monstrous, But I figured that was the look Cowan and Velez Were going for when they created the designs for Brick. As the series went on, the characters began to change. BRICKHOUSE's features began to slowly change ( this could be due to the artistry of regular artist chriscross). brick began to become less rocky square like and more..shapely. this actually began once she got into a romantic relationship with one of her teammate's. eventually the two began to get serious and started knocking the boots.
Following her blooming relationship with third rail, i guess either the writers, editoral staff, or MILESTONE/dc comics
decided that it was time to get rid of the monstorous slave look and give brickhouse a make over. after nearly losing
half of her face during a battle with the shadow cabinet, flashback convinces brick to get some facial work done to
fix it. being that brickhouse is a woman over 7ft tall with the built of a f**king brickwall!!..a lot of extra work had to be
done.
FIRST THEY HAD TO GET THEIR WIELDING EQUIPTMENT READY ALONG WITH THE STEEL PLATE FACE MASK TO SMOOTH DOWN THE "ROCKY"
PARTS OF BRICKS' DAMAGED FACE.
THEN YOU GET ON ANOTHER PROTECTIVE FACE MASK AND USE A MALLET FOR REASONS THAT A MALLET WOULD BE USED TO REPAIR A DAMAGED
FACE OF BRICKS...AND EYES & nose TOO.
FINALLY YOU HAVE TO USE A FLAME THROWER TO GET THE HAIR RIGHT, ROCKBROWS...I MEAN EYEBROWS..THE CHEEKS AND ALL THE OTHER
FACIAL SH*T REQUIRING A FRIGGIN FLAME THROWER TO GET BRICKS' " FACELIFT" TO BE A WORK OF ART.
THE END RESULTS: AFTER ALL THAT DAMN WORK AND WAHLAH. THE NEW & IMPROVED BRICK HOUSE
BRICK-HOUSE NOW IS NO LONGER LOOKING LIKE THE ROCK HEADED VERSION OF ANN JEMIMA & THE THING BUT INSTEAD
QUEEN LATIFAH MIXED WITH A BRICKWALL AND ON STERIODS..
HERE ARE PICS OF BRICKHOUSE BY THE SAME ARTIST BEFORE AND AFTER THE "FACELIFT" :
BIG DIFFERENCE?
AS YOU CAN SEE FROM THEE ABOVE PICS. BRICKS HAS UNDERGONE A MAJOR CHANGE FROM Her ORIGINAL STAGES. NOTICE
The MORE FEMININE FEATURES THAT ONLY A WIELDER AND FLAME THROWER COULD CREATE. EVEN HER CLOthes AND
hair LOOKS BETTER. BRICK HAS GOT TO BE THE FIRST HIPHIP COMIC CHARACTER TO OFFICALLY GET A FACE LIFT FOLLOWING A
FIGHT. HERE ARE A FEW OTHER FEMALEs with street cred and deep ties to they crew WHOM DECIDED TO WALK IN BRICKS
MASSIVE shoe SIZES AND ALSO GET VERY NOTICEABLE WORK DONE ON THEIR FACES...
FOLLOWING HER SURGERY, BRICKHOUSE (STILL LOOKING LIKE LATIFAH FROM LIVING SINGLE) AND THIRD-RAIL DECIDES TO
CALL IT QUITS AND LEAVE THE BLOOD SYNDICATE TO BEGIN THEIR OWN FAST FOOD RESTURANT IN THE HOOD (PARIS ISLAND).
YOU HAVE TO WONDER IF THIRD RAIL WOULDA STAYED WITH BRICK IF SHE STILL LOOKED LIKE THIS:
NEXT: WOULD DC EVER CONSIDER MAKING A BLOOD SYNDICATE MOVIE ?!
#5


JUST HOW POWERFUL is
KWAI
Kwai is a mystical warrior believed to have existed centuries ago as a Protector for Ancient China from evil demons, dark forces, and magical entities who threaten to not only destroy the Chinese civilization but the world itself. Though we didn't get to see the full range of Kwai's powers, here's what we have seen:
Comakinesis
(Hair manipulation)
Kwai has the ability of Hair manipulation (Comakinesis): Similar to her ability to
control her clothes, Kwai can also do the same with her hair. Kwai's hair which

appears to be at least 5 feet long can be shaped and manipulated as an appendage.
Kwai's used her hair in battles to strike and defend attacks from her adversaries.

Kwai's hair has the ability to lift up and hold heavy objects as evident be her ability
to carry two children (both over the age of 5) while she flew through the sky.
Flight
Kwai has the ability of flight. Kwai was able to fly at various levels as shown during her first appearance while chasing the Demon Fox or during the
Super-Man/ Blood Syndicate
crossover
Worlds' Collide
Resurrection
Kwai has the ability of resurrection: When we are introduced to
Kwai
, she is on her 77th life. This means since the ancient times, Kwai has died and been re-born 76 times. I believe it's 78 now as she died again in her final battle with the
Demon Fox
only to be resurrected once again..but with a twist.
Empathy
Kwai has the ability of Empathy: Kwai had the ability to sense how others are feeling as well as understand their emotions relating to hopes, dreams, fears, and desires.

Healing factor
Kwai has the ability to heal others: Kwai displayed the ability to heal members of the syndicate by touching them. Kwai was able to save
Wise-Son
from dying, calm down brickhouse during a seisure by touching her, and healing dmz after his fight with the demon fox with a kiss.
Healing Cocoon
Energy blasts
Kwai has the ability to radiates a mystical from her hands. Though she has been illustrated with her hands surrounded by a ball of energy several times, Kwai have yet to be shown in a comic firing blast/beams

from her hands.
Weapons
Kwai was an exceptional fighter: as a mystic avatar from ancient China, Kwai

developed several fighting techniques throughout the centuries which she has used
as a member of the Syndicate. Kwai uses her hair and clothes to attack others as
well. Kwai also uses a Spear in battle. It is unknown if the spear had any special or
magical power.
Gold Blood
Kwai has the ability to...bleed gold blood?!? Uhh...."How is that really a super power?"
you may ask; Well I know
that don't mean much..buuuttt I was still surprised to see that she had gold blood.
The Syndicate could have used
Kwai's blood and made some jewelery. Hell, I could use some of her blood to sell myself.

Transformation

Kwai has the ability of Transformation: When Kwai is resurrected into the body of someone from her lineage, she can transform from host to self. During this stage, Kwai possessed the body of kid named
Nina Lam
who changed into Kwai taking her personality and memories. Nina later gained the ability to change into Kwai after saying her name: "Kwai" . (**this ability took place after Kwai's apparent death in Blood Syndicate # 35**). It is unknown if Nina Lam is currently Kwai or Kwai is Nina Lam. But Kwai's appearance has changed as of Milestone Forever # 1 and she appears to have more human features implying that Nina has completely took over the Kwai avatar
NEXT: WHY DID BRICK HOUSE REALLY GET A FACE LIFT?!
#4


DID HOLOCAUST KILL TECH-9!?
I know a lot of visitors of BLOOD SYNDICATE.COM all remember that the original leader and fan favorite, Tech-9 died only four issues into the series. Tech walked away from the other members following a celebration of their victory against the S.Y.S.T.E.M to take a piss, when Tech noticed Fade (or what appeared to be Fade) up in front of him; Tech began to walk towards Fade..then it happened: Tech's began to scream in pain as his skin began to melt off his body.

As the other Syndicate members raced to their leader, they saw nothing but Techs' uniform enclosed in blood and bones. Tech-9 had died as the skin all but melted off his bones by the time a shockened Fade was able to hold his friend for one last time. With smoke being risen from his blooden skeleton, Flashback yells "IT'S THE GAS. IT HAD TO BE THE GAS!".
While The Syndicate accepted this as the cause of death…I happen to believe differently. Over the past 20 years since the birth of the DakotaVerse and even during the Milestone Comics run in the mid 90's, there was no other Bang Babies that died from the "side effects" of the Bang. Not like that. Maybe it was a member of the SYSTEM who came back to attack their leader or possibly a gang member who wanted to get revenge on Tech for taking down the crackhomes and drugs being circulated within the city or maybe it was an old teammate who has the ability to create fire…burn others and recently got his ass whupped in front of everybody before promising to get revenge. Who am I referring to…who else :Holocaust
Holocaust has the ability of
PyroKinetics
and a power hungry pyschopath.
After nearly killing residents of a near by building and being questioned about his actions by Tech 9, Holocaust decides to challenge Tech for leadership of the Syndicate. The two fight for leadership and though it seems as if Tech was going to lose…he flips the script and defeats Holocaust by shooting an endless amount of bullets at him non stop until he admitted his defeat. Tech then tells Holocaust that he can keep his role on the team but cut all the bullsh*t. Holocaust response is cussing the others out and promising to get revenge. Holocaust is one of the most powerful beings in the Milestone universe who originated from the Big Bang battle. He even at this young stage had a good idea on how to use his powers. Holocaust even became more powerful towards the end of the Milestone era as he took a chance to increase his powers and inhaled a vial of the same gas that gave him his amazing power.
Power that would include making every and anything burn including people burn. Which is what I think happened to Tech. Techs' skin MELTED off of his bone man. Let me repeat that; his skin MELTED off of his BONES!! Then if you look at the above pic, u will see that there is smoke coming from the skin being melted off his bones. I don't think this is a coincedence. I believe that HOLOCAUST is the reason Tech-9 was killed as he was the Murderer. The two had a disagreement in Issue # 1, they had a fight in issue # 2, and in Issue # 4, Tech dies at the end by what is believed to be a side effect from the Big Bang. Lets keep it real here people, Tech 9 was killed by Holocaust who burned him to death. In my opinion, This revealtion would have been revealed at some point if the BLOOD SYNDICATE series had continue. What do you think?
NEXT: WHAT THE HELL WERE KWAI'S POWERS ?!?
#3

PROOF THE JUSTICE LEAGUE COPIED BLOOD SYNDICATE?!?
Hello EreOne. Here's another one of my annoying blogs getting @ the New DCU 52 for their mistreatment of the Blood Syndicate. Now DCU and Jim Lee can act as if the Syndicate never existed but we all know the saying " Action speaks louder than words" and the action in the recent Justice League storyline " A Villains Journey" don't just speaks...it's hollering. I feel as though, Geoff John knew what the hell he was doing when he put out this arc. Now you readers may feel like I'm bugging out and there's really no similarities between The Blood Syndicates battle with the Demox Fox and The Justice Leagues battle with Graves. But you can't deny the obvious. For starters...#1) The Demon Fox story arc came out waaaaayyyy before Graves did. The Graves character is almost 20 years younger than Demon Fox and look at the similarities in their appearance. White skin, red eyes, an evil grin, and claws. It shouldn't be too hard to see who copied who.

Now on to the #2) reason I believe that Justice League cloned Blood Syndicates Demon Fox arc is another co-winky-dink. Kwai as well as the Demon Fox both originate from the Kingdom of Kwen Lun a place that just happens to have a welcome door mat outside of a cave in Mount Sumeru. The same Mount Sumeru that David Graves also visited to meets the gods of legend and become a vengeful and powerful entity of his own. I suppose that's just a coincidence as well huh? Look at the pics below and see both Kwai at Mount Sumeru and Graves fighting the league while he flashbacks to his time at Mount Sumeru.

Now I know that may not be convincing enough for some of the readers of this blog. But here is my # 3) reason for my beliefs that justice league jacked the syndicate on the sneak tip!! Now...The Demon Fox is an mystical being who defeated the syndicate when he began to f*ck with their minds and make them see their past sins, fears, secrets, and failures. In the Justice League "Graves" basically did the same thing to beat the JL during the Journey storyline, he used his powers to mess with their heads, making them see the things that the loved, loss, and their failures. Co-inky-dink...I thinkst naught!! If you take a look at the pic below you will see that after the Demon Fox attacks Wise Son he appears to become half dead/drained.
Now if you take a gander at the picture below you will notice that Super-Man appears to be half dead/drained after feeling the wraith of Graves. Coincidence..?! I thinkst naught.

Now on to my 4th observation of Graves seemed to have it in for the Justice League as a whole. Buttttt....if you really paid attention to that story the only member of the League to have the worst done to her was Wonder Women. It was her ex-beau who got his @ss whupped and tortured and ridiculed throughout this arc. Also in the issue # 12, Graves tells the League he has pity for the others but has HATE for Wonder Women and attempts to kill her.
This potential arch nemisis of WW as well as their brief fight sequence in which Wonder Woman plans to kill Graves is nooottt quite but similar to Kwai and the Demon Fox brief bout during the Demon Fox storyline.

I don't really expect everyone to see where I'm coming with this but...As i stated before..."I think Ivan Velez Jr. should get some royalties for people jacking his ideas". But that's just my opinion on it. I will further elaborate on DCU 52 sh*tting on Milestone characters in the next blog. PEACE !!
#2

Will Jim Lee bring Blood Syndicate to DCU 52
Hello erebody. Yeah I'm back with another post getting at DC comics for not bringing back the Blood Syndicate in some kind of capacity after the MileStone Forever limited series. Now of course we can blame the failure of Static Shocks recent series for the lack of Milestone characters poppin up since he's primarily responsible for being that bridge to all the other Milestone characters as evident by the successful Static Shock series. There is no doubt that some of the Syndicate members could fit with the new DCU 52 continunity... even though their history and some of the characters in the Syndicate are so totally different from the norm within the DCU I think it'd work out just fine. Now take a look at thee artwork below and tell me that Jim Lee wouldn't have drawn a f***kin'awesome FADE.
Even though that's an authentic Jim Lee DCU 52 drawing. that's not really Fade from the Syndicate. I touched it up a bit by giving him black hair and a goatee. Anyways… Speaking of DCU 52 and Jim Lee, In the Justice League "Graves" storyline. The League have to battle an adversary known as Graves who takes out the League in a very VERY similar fashion to that of what the Demon Fox did to the Syndicate in issue # 7-8. I think Ivan Velez Jr. should get some royalties for people jacking his ideas. But thats just my opinion on it. I will further elaborate on it in the next blog.




#1

DO AMERIKKKA STILL EATS HER YOUNG?
DON'T LET THE TITLE FOOL YOU. THIS ARTICLE..OR BLOG IS ABOUT THE LACK OF RESPECT THAT AMERICA AND SPECIFICALLY DC COMICS HAVE FOR THE CLASSIC AND CULT FAVORITE MID 90'S COMIC BOOK SERIES
THE SYNDICATE WAS A UNIQUE 90'S COMIC BOOK SERIES ABOUT THE FORMATION OF MULTIPLE GANG MEMBERS WHOM BECAME A TEAM FOLLOWING AN EXPERIMENTAL GAS EXPLOSION MEANT TO KILL THEM BUT INSTEAD GAVE THEM INCREDIBLE POWERS. BLOOD SYNDICATE WAS..AND STILL IS... A SERIES UNLIKE ANY OTHER TEAM COMIC SERIES . BLOOD SYNDICATE WAS WRITTEN BY IVAN VELEZ JR. AND IT NOT ONLY FEATURED A "SUPER POWERED GANG" OF MINORITY YOUTH BUT IT FEATURED: A LEADER WHO WOULD DIE ONLY 4 ISSUES IN, A IN CLOSET HOMO SEXUAL , A CRACK ADDICTED SUPER HEROINE, A SHAPE SHIFTING TRANSSEXUAL, AND MYSTICALLY WARRIORS. I'VE BEEN A FAN FOR THE SYNDICATE SINCE I WAS A KID. IT WAS ACTUALLY A DREAM OF MINE TO BECOME THE NEXT SYNDICATE ARTIST AFTER CRIS CROSS'S RUN. UNFORTUNATELY FOR ME..THE SYNDICATE SERIES WAS CANCELED IN 1996 (THE SAME YEAR 2PAC DIED) AND MY DREAM..FADED AWAY. HOWEVER..I WOULD GET TO SEE SOME OF THE SYNDICATE CHARACTERS OVER THE YEARS IN THE STATIC SHOCK CARTOON SERIES. I WAS SURE THAT A FUTURE COMIC BOOK FEATURING THE SYNDICATE WOULD FOLLOW AND IN 2001 THE SYNDICATE RETURNED IN "STATIC SHOCK" MINI-SERIES. BUT ONCE AGAIN FADED AWAY FOR THE NEXT TEN YEARS. FINALLY THEY RETURNED AS SUPPORTING CHARACTERS IN MILESTONE FOREVER. AFTER READING THE MILESTONE FOREVER LIMITED SERIES IN 2010. I LONGED FOR AN ALL NEW BLOOD SYNDICATE SERIES..OR EVEN THE APPEARANCE OF SOME OF THE CHARACTERS. I FIGURED WITH THE RETURN OF STATIC IN A REGULAR COMIC SERIES IN LATE 2011, WHICH FEATURED HARDWARE AS HIS MENTOR, AS WELL AS THE RECENT APPEARANCES OF ICON & ROCKET IN THE YOUNG JUSTICE CARTOON SERIES, I FIGURED THE SYNDICATE WILL BE NEXT ONES TO GET THEIR 15 MINUTES. UHH...UMMM...WHERE THE HELL IS THE SYNDICATE AT?!? NO WHERE TO BE FOUND. SO I'VE DECIDED TO CREATE A BLOG DEDICATED TO THE BLOOD SYNDICATE CALLED "BLOG SYNDICATE". BY DOING THIS BLOG AND WORKING ON THE BLOOD SYNDICATE FAN SITE, I WILL CONTINUE THE LEGACY OF THE SYNDICATE IN MY OWN WAY..AS A FAN AND FOR ALL THE OTHER BLOOD SYNDICATE FANS WORLDWIDE TO CONTRIBUTE, COMMENT, AND ENJOY.